Houston – On my way to the top!
"Have fun while you're in your way to the top!" – My entrepreneurial journey starts and ends with the process. It's the summary of my 12 days trip to Houston.
As you know I'm in love with America. The Just Dance Live event which took place at the Revention Music Center in Houston, was the main reason why I spent my vacation there. But at the end it was more than just dancing…
Since 2016 I'm self-employed as a vlogger and speaker, but it's still a side hustle for me. I also work full-time as a Social Media Manager. Pretty cool and not easy at the same time if you want to work for two different things simultaneously. That means work after work. But guess what! I don't care because I know exactly what I want in life. Regret is poison so quitting is not a question. Never stop the hustle, make your dreams come true while enjoying the entire process to the top. That's me.
Houston was not just a great vacation to escape from my daily habits in Germany. It's more an entrepreneurial journey to rethink my actions and strategies in my business and what I want to accomplish. My trip was fabulous—no wonder I miss Houston a lot. That's the life I want to live: Travel, meet new people along the way, network, have fun and enjoy every single moment.
There were these huge terms at the Buffalo Bayou Walk in Houston. Big words along the path. So I want to divide my blog post into four topics which describe my journey perfectly. You can find the terms in my Video Blog at the end of this post (coming soon) but also highlighted on my Instagram profile.
Observe the market
When you're interested in building a huge company on good you shouldn't watch your competitors. Observe the market, your target audience, not other businesses. Trust yourself and bring value to the people in your market.
On my first day I spent an enormous amount of time at the Aquarium Downtown. Honestly I'm not really interested in the underwater world and alle these kind of fish. Nevertheless it was a cool place especially for families just to have a great time. The carousel, big wheel and the cool water interactions were just a few of the attractions. Besides of the fun time outside I was more interested in the aquarium itself which is a little bit contradictory when I say that I don't care about underwater. When I visited the aquarium I asked myself how can a small fish survive in the deep water of the ocean. For my perspective in life I could also ask how I can survive the competition on the market and prove that I'm good enough? So I build a connection in my mind and combined it with the business life. Every single fish can survive although there are many killer out there. They have their tricks like swimming in a colony or camouflage themselves. It's all about finding your niche and building trust in an environment nobody else is. Find your USP (unique selling proposition) like a fish in the ocean. Ridiculous as it sounds that was a great moment to think like a fish. I mean if you start your business and nobody knows you—you're a fucking fish!! Suitable for this I want to recommend the book "Blue Ocean Shift" (Affiliate Link). It's the second book of the authors Renee Mauborgne und W. Chan Kim. They have amazing insights about how to find the right niche in your market although it's oversaturated at first glance. Maybe you just have to rethink your business, make a pivot and implement new strategies in your environment?! And as we speak about building connections: I touched a real stingray which was kinda cool. Be accessible for everyone to never miss an opportunity and get in touch with people— like a stingray.
So what I wanted to tell you with this paragraph was to think outside the box. Get some inspiration in the nature or while you're having a great time in your free time.
Listen to no one
I remember these days when people laughed about me because I started to play Just Dance. They saw (and a few still see) this game as a stupid way of passing the time. For me it's more than just a game—it's passion, it's love. When Ubisoft invited me in 2015 to travel to Los Angeles to be part of their E3 experience I was blown away. It was the best time in my entire life (it's the truth!) and I will never forget what Ubisoft gifted me. An incredible and unforgettable experience. Just Dance is still a big part of my life. So people started to take my passion more serious.
The Just Dance Live event in Houston was a kind of a throwback to the time in Los Angeles. This game series gives me a lot and I can regain energy from it. Go and follow your intention and your heart. Respect everybody's opinion but listen to no one. You could miss a great opportunity or an amazing experience.
At Just Dance Live I met really nice people like Tara, Thao, Arturo as well as Sammy, Hindounette and Marie. We had a hilarious time together and enjoyed every single second on all four days. I'm really grateful for everything what Ubisoft does for the community—huge probs! These days at the live event showed me again that you need also some time to enjoy life besides your hustle. Compare it with dancing, dance like nobody is watching and go your path. Honestly and for a long time I really don't care what other people think of me. It's my life and I decide what I want to live for. So fuck yourself if you want that I stick to your opinions about my own life. Respect everybody, listen to no one. Oh and by the way, did I told you that I was in American TV? ABC13 Houston interviewed me!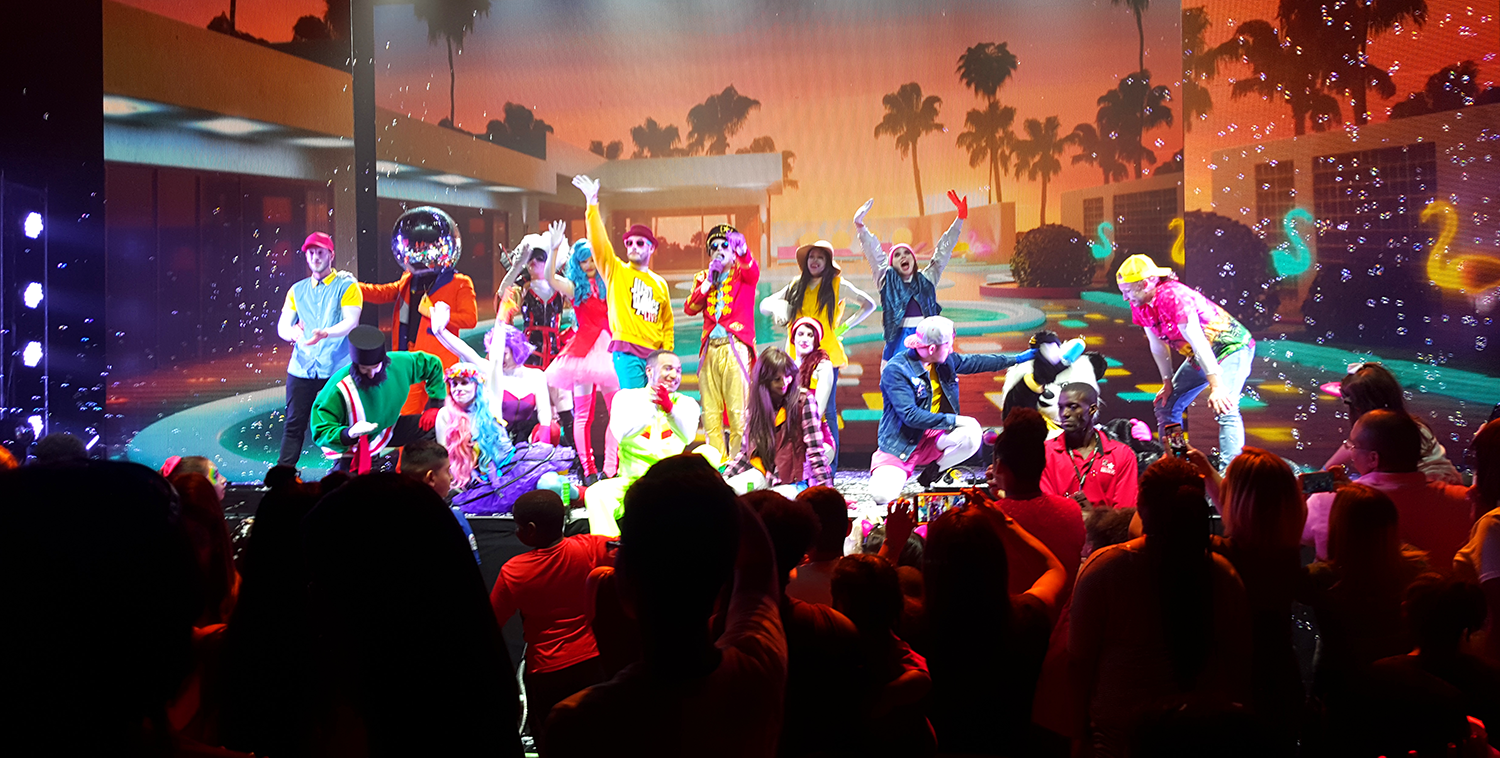 Never take a break
You can't imagine how excited I was to visit the NASA museum. I could see the rockets, the launch, stations and so much more in real life. At Just Dance Live I met Arturo, a super friendly Mexican Just Dancer who took me there. We had a nice chat and visited every ounce of the museum. It was impressive and cool at the same time to explore and think about that humans are not limited in their actions. If you want to accomplish something, just go for it and don't think to much about upcoming issues and problems. You have to give every idea a try, execute on them. Nobody knows if it works. You know who is a big inspiration when it comes to think outside the box and ignore human limits? Elon Musk! You really should read Ashlee Vance's book about him (Affiliate Link), he's the author. You not only get the story of an amazing entrepreneur who want to take people with rockets to Mars and create a living there (mind blowing) but also huge inspiration when it comes to the executions of big ideas. And that's the conclusion, isn't it? Never take a break and be patient as hell.
If you have dream execute on that. You won't have an overnight success—put in the work! I mean it's clear that nothing will happen in the next days, weeks, months or maybe years. Sometimes you need decades to hit the great success and prove everybody wrong. Promise yourself to work every single day if you really really want to accomplish something in life. And I'm serious with that. Feel free to follow me on Instagram—every day I document my entire journey and I'll prove that I'll reach my goals, no matter how long it takes. I'm not just blogging about my experience in Houston. It's more about documentation. Don't underestimate me and watch me winning in the long term.
Explore human nature
People asked me what my favorite time and experience in Houston was. To be really honest I don't have to think long to answer this question. It's the Buffalo Bayou Walk, the green path in the middle of Houston downtown which caught my heart. Obsessed with the combination of giant skyscrapers and the nature I spent a calming time in peace. As a nature lover I walked this path for about five times. It never got boring and always felt new. Here I found the big terms which I recorded immediately and became the foundation of this blog post.
What's the biggest take away of a walking tour? Okay let's step back. Imagine you're in the middle of a huge city like Houston—full of traffic, stressed people and so much action. It's so dynamic with all these opportunities and experiences you can make in every corner. You can network with many people, talk with strangers and so much more. Sometimes you just want to be for your own. Having time to think about your goals, ideals and what you want to accomplish. That's a very important part of my life, to have time for myself clearing my mind. Maybe it's a kind of mediation for me, I don't know. All I can say is that I love to spend time in the nature.
In my opinion having some time off is very important. You should also take some time to do things you love. If it's riding a bike or playing chess in an association than do that! Why are you waiting for? Just do it and have fun, enjoy time in a place you can relax. Some people spend to less time at these places where they can charge their energy…
The takeaway? Don't be an asshole and treat people like shit just because you're stressed. Be empathetic and strong willed at the same time. For me it's important to be likable, to be friendly also to my haters. Everybody else will be respected… but that's all. Don't care about the others and stay in your line.
Love the process
I wanna end up my blog post by telling you about two entrepreneurs. I met them – Chuck and Loren – at the Buffalo Bayou Park. We got in touch because I asked them how many of these terms you can find on this path. Explore, Observe, Listen and Pause. We had a nice chat about two hours and talked about politics, differences between America and Germany, entrepreneurship and so much more. After that they invited me to grab some beer but I had to decline. I had less than 24 hours to be ready for the flight back and refused the offer. Hey Chuck and Loren, if you read this post: I don't know when but I'll come back! Anyways Loren hit me really hard in a very positive way by an amazing message on Instagram.

This touched my heart and pushed me a lot. Huge motivation! I mean at first they were just strangers but I think they recognized the sparkle in my eyes when we talked about entrepreneurship. We talked for two hours but I feel connected to them maybe because they understand what my goals are. Never forget that—thank you so much, it was a blast to meet you both! This message is so powerful for me that I updated all my wallpapers on my social media with that.
I promise myself and everybody who is reading this post that I will hustle while being patient and having fun on my journey to the top. Love the process and show gratitude for every opportunity you get along the way.
Houston, I miss you a lot. I'll come back to hug the whole city, to walk on the Buffalo Bayou Walk but also to meet my friends again. ❤
xo
Tex